Vidéo de présentation du projet ACCLAV à la Catskill Mountain Foundation
The Accompanied Keyboard Repertoire in the 18th Century
Avec Pierre Goy, Hervé Audéon, Jovanka Marville et Liana Mosca
Entre 1750 et 1800 environ, la grande majorité du répertoire pianistique se composait de sonates et de pièces avec des accompagnements facultatifs pour violon ou flûte et parfois pour violoncelle. Les œuvres pour piano seul étaient relativement rares et généralement composées par des virtuoses pour eux-mêmes ou comme pièces d'étude.
Pierre Goy, fréquemment invité à l'Académie d'interprétation du pianoforte, et ses collègues, l'interprète de clavier ancien Jovanka Marville, la violoniste Liana Mosca et le musicologue Hervé Audéon, ont exploré ce répertoire avec leurs élèves et l'ont fait revivre dans ce salon, en partageant leurs découvertes.
> Diffusé en direct le 25 mars 2023 par la Catskill Mountain Foundation (USA)
> Le lien du projet ACCLAV
Playing Bach on the modern harp : an approach to arranging the luth music of Johann Sebastian Bach for the modern harp
English version is now online.
Arranging is an essential element in the toolkit of modern harpists who wish to broaden their repertoires. According to the authors, the challenge is to develop a personal yet well-informed practice that allows them to remain close to the original work while taking full advantage of the expressive possibilities of the modern harp.
Chabbey, Marie (HEMU Haute Ecole de Musique Vaud Valais Fribourg, HES-SO // University of Applied Sciences Western Switzerland)
Galassi, Mara (Civica Scuola di Musica "Claudio Abbado", Milano)
Belmondo, Letizia (HEMU Haute Ecole de Musique Vaud Valais Fribourg, HES-SO // University of Applied Sciences Western Switzerland)
English translation by Marcia Hadjimarkos
NOUVEAUX PROJETS DE RECHERCHE
API 3
Dans une démarche compréhensive et qualitative, le projet API propose une analyse très fine de situations d'enseignement de la musique au niveau tertiaire. La phase 3 du projet se penchera sur les formes métaphoriques qui sont mobilisées dans l'interaction entre un.e professeur.e et son étudiant.e instrumentiste.
Floriane Bourreau, HEMU VD (responsable de projet)
Germain Poizat, UNIGE
Pierre-François Coen, UniFR

12.2022-11.2023
En savoir plus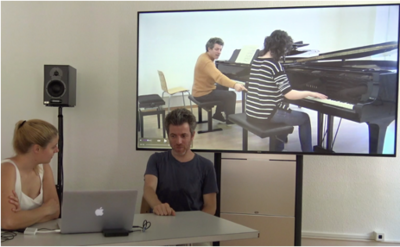 SensiMUS
S'inscrivant dans la collaboration entre l'HEMU – Haute école de musique et le Sinfonietta de Lausanne, sur les questions de médiation notamment, le projet SensiMUS vise à accompagner la mise à disposition par l'orchestre de gilets sensoriels permettant aux personnes sourdes ou malentendantes qui le souhaitent de vivre la musique via le corps.
Thierry Weber, HEMU VD (responsable de projet)
Angelika Güsewell, HEMU VD
Cléa Masserey, Sinfonietta de Lausanne
Etienne Dayer, Sinfonietta de Lausanne

12.2022 – 11.2023
En savoir plus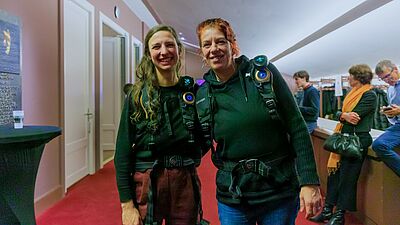 Photo : 20min - Vanessa Lam

RESSOURCE POUR LES CHERCHEUR.ES
Comment déposer, gérer et terminer un projet de recherche à l'HEMU ?
> Guide de recherche
> Flyer résumé
> Onglet recherche artistique sur le site de la bibliothèque
BOURSES DOCTORALES IRMAS
Possibilité pour les membres du personnel d'enseignement et de recherche de l'HEMU de demander une bourse pour terminer leur thèse de doctorat
> Critères et procédure
> Formulaire de demande
« Benjamin Britten - Complete guitar music » (2022)
Marie Chabbey, professeure à l'HEMU et assistante scientifique au département de la recherche de l'HEMU, a sorti un CD « B. Britten - Complete guitar music » en parallèle à sa thèse de doctorat.
L'album au label Aulicus Classics est à écouter sur :
Itunes
Spotify
YouTube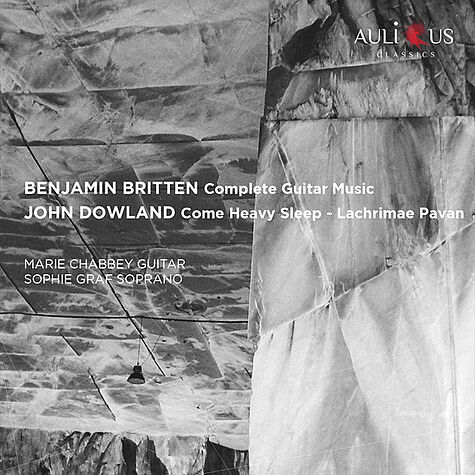 « Rebecca Clarke: Works for Viola » (2022)
Vinciane Béranger à l'alto, accompagnée de Dana Ciocarlie, Hélène Collerette et David Louwerse, interprètent les œuvres de la compositrice Rebecca Clarke. Les prémisses du projet ClarkeSources.
L'album au label Aparté est à écouter sur :
Spotify
Youtube