Full agenda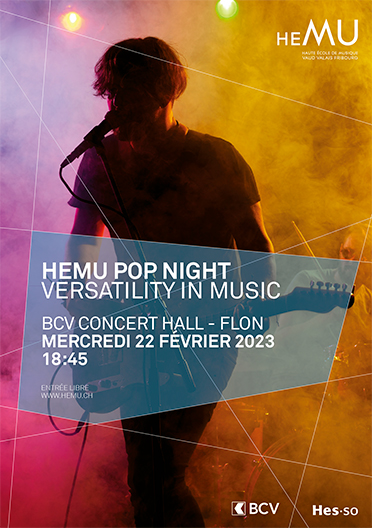 Licking Rainbows
18:45 | Licking Rainbows
Sous la forme d'un Power Trio, Licking Rainbows s'authentifie dans le Rock grâce à un son puissant allié à une énergie sauvage. En combinant leurs inspirations venant du Brit-Rock, Garage-Rock et Rock Psychédélique, le groupe crée un nouveau son faisant planer sur la vague 60's tout en stimulant une certaine ardeur proche du mouvement Punk. Formé de trois amis partageant cette même passion pour la Culture Rock, une forte complicité autant musicale que scénique émane de cette formation Yverdonnoise. Mêlant les harmonies vocales à des riffs acharnés en passant par des lignes de voix aussi clean que grunge, Licking Rainbows dégage un dynamisme surprenant.
Livio Arcuri, basse, chant lead | Kilian Zompa, guitare, backing vocals | Timothée Poggi, batterie, backing vocals
20:00 | Atelier de pratique collective globale musiques actuelles de François Vion
L'atelier thématique de pratique collective de Bachelor 1 en musiques actuelles n'est pas lié à un artiste ou une esthétique donnée. C'est un espace pour travailler tous les savoir-faire, savoir-être, compétences et situations du jeu, de l'invention et de la création en collectif. C'est aussi, au travers de la variétés des styles et pratiques abordées, l'occasion de devenir un musicien sans frontières rapidement adaptable et versatile.
Samuel Vuilleumier, guitare | Timothée Poggi, batterie | Vadzim Saukin, piano | Danila Pervushin, chant | Kaoli Crivelli, chant | Baptiste Coqueret, basse
21:15 | Atelier thématique de Marcello Giuliani, associé à l'artiste Yarol Poupaud
Yarol Poupaud, multi-instrumentiste parisien, fut guitariste pour FFF, Niagara, Adanowsky ou Johnny Hallyday, bassiste pour Winston McAnuff & The Bazbaz Orchestra, batteur pour Adrienne Pauly et MUD, aux côtés de son frère, le comédien Melvil Poupaud, clavier pour The Hellboys, chanteur et guitariste pour Black Minou. Il fut également directeur musical pour Hallyday et membre du jury dans l'émission Nouvelle Star. Si le concert sera assurément orienté Rock, toutes les subtilités de sa culture de la musique Soûl et Pop seront bien audibles.
Nicolas Diego Strazzini, batterie | Kilian Zompa, guitare | Yarol Poupaud, guitare | Vadzim Saukin, piano | Céline Gustavsson, chant | Sarah Mailler, chœur | Livio Arcuri Mateos, basse
| | |
| --- | --- |
| Schedule : | 18:45 |
| Place : | Lausanne | HEMU – Vaud (Flon) | BCV Concert Hall |
| Entrance : | Entrée libre |